How appropriate it is that, just as Neptune (pretense) conjoins Chiron (wounds) for their last hit on America's Moon in Aquarius, it's election time in the USA.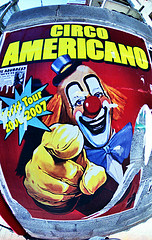 Negative Neptune manifests as addiction, self-delusion and the passive acceptance of unhealthy situations, which the shrinks have delicately termed enabling. I propose that we all take a pledge not to enable this November.
Specifically, I mean that we disabuse ourselves of the fantasy that the Democrats will or can save us from the Republicans.… click here to continue reading.