The confetti had barely been swept up in town squares all over the world after the triumph in Egypt. The American public was distracted elsewhere, trying to find a job, or keep a job. And suddenly we were in another war.
Word was buzzing around the blogosphere that a post-March 11th natural disaster was likely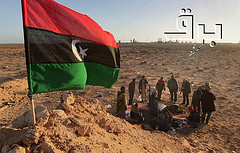 (I detail these transits in my new lecture, Uranus Squared). The approach of Mars, the god of war, to the Aries point – the red-hot degree set off by Uranus on the day of the monster quake– called to mind disasters of a less natural variety: military ones. … click here to continue reading.