Native Son
(For Part Two, click here.)
There are ways of looking at this appalling presidency that have nothing to do with politics per se.
Those of a Jungian frame of mind, for example, might propose that Trump is a creation of the collective consciousness.
A transpersonal astrologer, and even some historians, might say that he is not an aberration but an epitome.
Uncle Sam's Evil Spawn
The man may well be certifiably crazy, as attested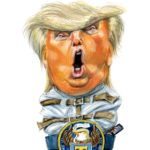 by the Duty-to-Warn shrinks.… click here to continue reading.