Things are about to get complicated (see the Skywatch for May), with new energies entering the transit picture. So far,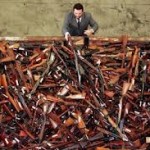 this Spring has been all about Mars.
The red planet has been throwing its weight around like a bully on the school bus. As we have seen, Mars set the tone for the whole season when it set off the Uranus-Pluto square at the Equinox. It is to Mars that astrologers are chalking up the hue and cry over weaponry in the USA.… click here to continue reading.