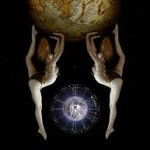 Open your mind and upgrade your software. It's time to interact.
There are four ingresses into Gemini this month — thrilling news to lovers of mental engagement. With five planets in the sign of communication, the skies favor word-clever dialogues and back-and-forth exchanges.
At the Full Moon eclipse on May 24th, the Sun in Gemini (discussion) will be opposing the Moon in Sagittarius (teaching). This polarity encourages us to talk back to the teacher, whoever our teacher happens to be. It's question time: a time to be philosophically curious; to step back and look at our lives – and the world at large – from the big picture.… click here to continue reading.